PDF Pattern #0415 Asymmetric Overskirt (apron) Early Bustle with Parasol Pocket Size US 8-30 / EU 34-56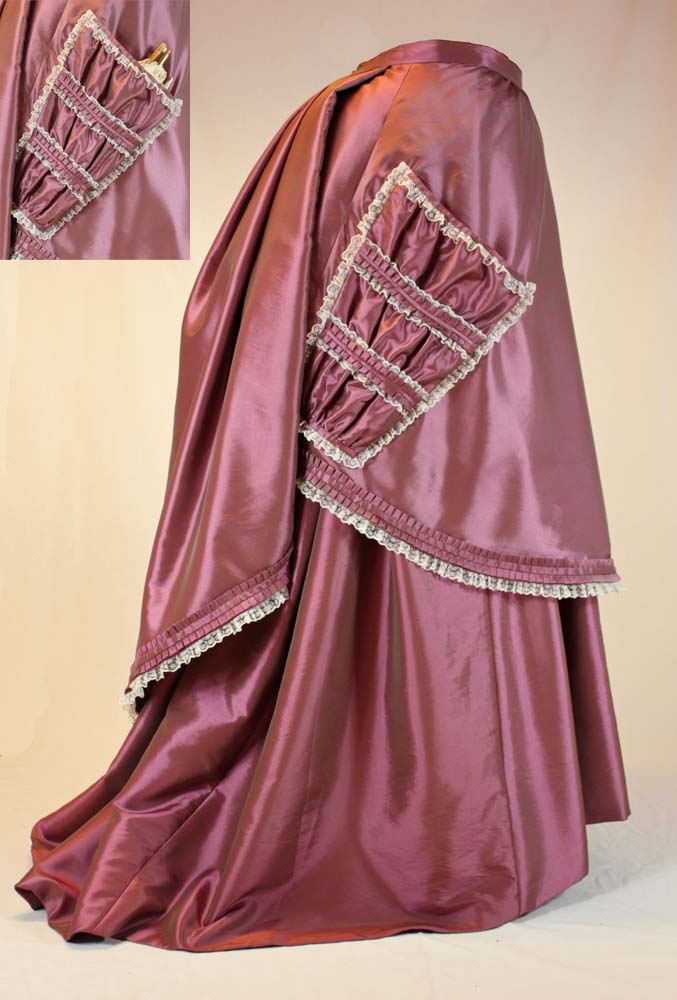 At the time of the early bustle era between 1869-1875 separate overskirts, called aprons, where very fashionable.

Asymmetrical pattern designs where popular, walking dresses often had rich decorated pockets mounted on top of the overskirt to hold a foldable parasol.

The unlined Overskirts where worn over a lined basic skirt, decorated with e.g. lace, braids, fringe.



Perfectly fits to:
#0215 Basic Skirt for Early Bustle with loopable train size US 8-30 / EU 34-56



Fitted to be worn over a corset and bustle.



Also suitable for steampunk costumes.



The pattern comes with detailed and illustrated sewing instructions.

It is a multi size pattern, you can choose between US 8-18 (EU 34-44) and US 20-30 (EU 46-52).




Size: EU 34-56 (US 8-30)
Yardage:
US 8-18 (EU 34-44): 2.2 yd. 52" wide / 200cm with a width of 130cm consider extra fabric for trimmings
Cotton tape 1 yd. / 100cm, interlining, lining fabric

US 20-30 (EU 46-56): 2.7 yd. 52" wide / 250cm with a width of 130cm consider extra fabric for trimmings
Cotton tape 1.5 yd. / 1,5m, interlining, lining fabric