PDF Pattern #0215 Basic Skirt for Early Bustle with loopable train size US 8-30 / EU 34-56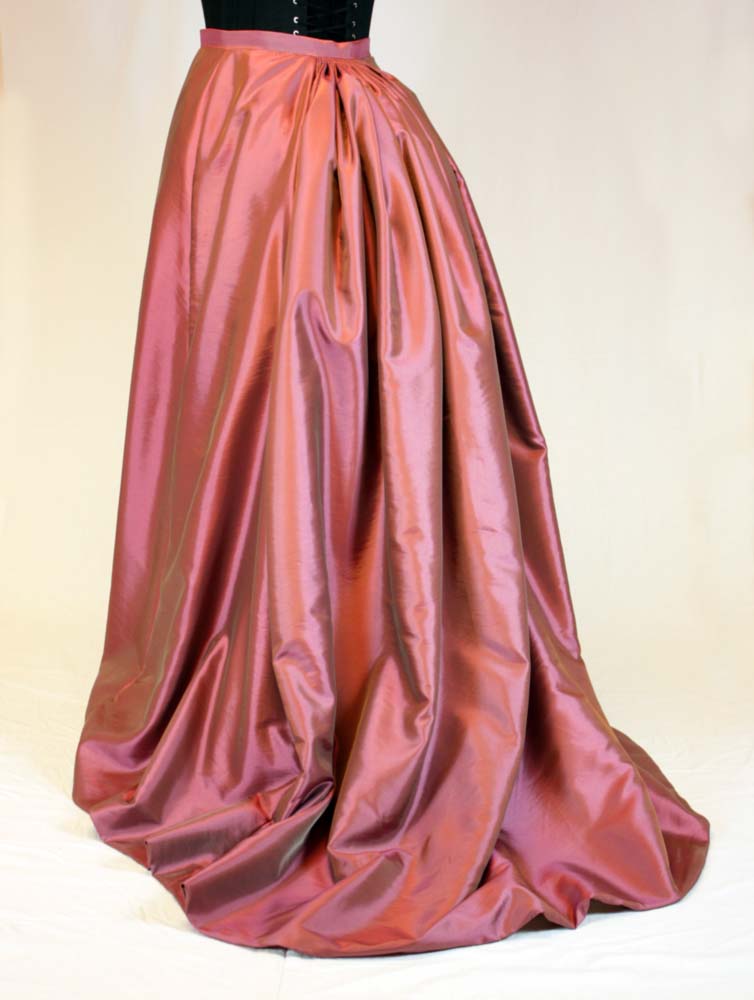 The Time from 1869 to 1875 is called "The early bustle era". Already during the years before the rounded crinoline became elliptical moving the volume towards the back.

About 1870 the crinoline was replaced by the new shape of the bustle, all volume of the skirts draped to the back and close-fitting at the front and sides.

Above the bustle a basic skirt was worn. This skirts where made of several gores, at the front and sides smoothly joined to the waistband. The width at the back was shirred into narrow cartridge pleats.

Typically above the basic skirt an apron was worn, but too ruching and trimmings where mounted directly to the basic skirt.

The waist, compared with the late bustle era, was high, the bodices where similar like the years before during the crinoline era.



Length of finished skirt front: 39 1/2" (100cm)




Fitted to be worn over a corset and bustle.



Also suitable for steampunk costumes.



The pattern comes with detailed and illustrated sewing instructions.



It is a multi size pattern, you can choose between US 8-18 (EU 34-44) and US 20-30 (EU 46-56).

Size: EU 34-56 (US 8-30)
Yardage:
US 8-18 (EU 34-44): 4,4 yd. 55" wide / 400cm with a width of 140cm both upper fabric and lining
Hem facing: stiff fabric like crinoline fabric or interlining fabric
Hooks and eyes, 9 small metal or plastic rings, cord 2yd. (1,5m)

US 20-30 (EU 46-56): 5 yd. 55" wide / 450cm with a width of 140cm both upper fabric and lining
Hem facing: stiff fabric like crinoline fabric or interlining fabric
Hooks and eyes, 9 small metal or plastic rings, cord 2yd. (1,5m)